Friday – June 26, 2020
David Gray joins Doug today to talk about Darrell Harrison's visit yesterday
Caller Carol about racism
Biblical Justice vs. Social Justice
Darrell answered some questions that arrived after yesterday's program.
Thursday – June 25, 2020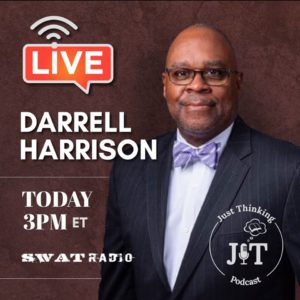 Today's Guest is Darrell Harrison of The Just Thinking Podcast
The heresy of James Cone
Race vs Ethnicity
Justthinking.me
Social Justice
What is the BLM movement about
Wednesday – June 24, 2020
Everyone is affected
Mob rule
Romans 3
The fear of God

Isaiah 5:20
If you are struggling you need to listen to tomorrow's guest
Caller Jim from Idaho
Tuesday – June 23, 2020
Time to act like men. Where are the leaders?
Taking responsibility for your actions and not those of others

Tone Deaf Virtue Signaling
Black Lives Matter vs. #BlackLivesMatter
Who do you bow to?
Monday – June 22, 2020
Anti-racism

Living in bubbles
What would defunding the police look like
——————
——————
5 Core Values of SWAT
1. God's Word
2. Prayer
3. Evangelism
4. Discipleship
5. Community
——————
SWAT – Spiritual Warriors Advancing Truth
Call us Toll-Free at: +1-844-777-7928
Email Us a Question: ask@swatradio.com
FIND A SWAT MEETING
Woody's Bar-B-Que
226 Solano Rd
Ponte Vedra, FL 10611
Wed. 6:30-7:30 am
IHOP
3250 Hodges Blvd
Jacksonville, FL 32224
Wed. Night 7-8 pm
Salem Centre
7235 Bonneval Rd
Jacksonville, FL
Wed. 12:00-1:00 pm
Jumping Jax House of Food
10131 San Jose Blvd #12
Jacksonville, FL
Thursday 6:30-7:30 am
The Village Inn
900 Ponce De Leon Blvd
St. Augustine, FL
Friday 9:00-10:30 am
Woodmen Valley Chapel – Woodmen Heights Campus
8292 Woodman Valley View
Colorado Springs CO 80908
Thursdays 8-9:15 pm