Wednesday, October 28, 2020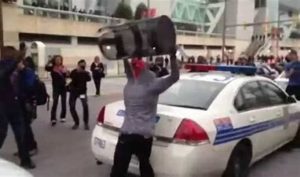 Rioting and Looting…again
2nd guessing law enforcement
Wayne Grudem responds to John Piper
Jesus, Lord or friend?
Rebroadcasts on Thursday, Friday and Monday.
Doug and Taylor will be back on Tuesday.
Tuesday, October 27, 2020
One week to go
Election shenanigans

Judge Barrett confirmed on the Supreme Court
Margaret Sanger
Putting God on display
The purpose of discipline is to train
Prayers for the SWAT brothers dealing with cancer
Monday, October 26, 2020
Election day is 8 days away.

"I Voted"
Michael Flynn
Getting along despite views
"The Plot Against the President" on Amazon Prime
Oh, and a new baby
——————
Hebrews 12:5-17
5 And have you forgotten the exhortation that addresses you as sons?
"My son, do not regard lightly the discipline of the Lord,
nor be weary when reproved by him.
6 For the Lord disciplines the one he loves,
and chastises every son whom he receives."
7 It is for discipline that you have to endure. God is treating you as sons. For what son is there whom his father does not discipline? 8 If you are left without discipline, in which all have participated, then you are illegitimate children and not sons. 9 Besides this, we have had earthly fathers who disciplined us and we respected them. Shall we not much more be subject to the Father of spirits and live? 10 For they disciplined us for a short time as it seemed best to them, but he disciplines us for our good, that we may share his holiness. 11 For the moment all discipline seems painful rather than pleasant, but later it yields the peaceful fruit of righteousness to those who have been trained by it.
12 Therefore lift your drooping hands and strengthen your weak knees, 13 and make straight paths for your feet, so that what is lame may not be put out of joint but rather be healed. 14 Strive for peace with everyone, and for the holiness without which no one will see the Lord. 15 See to it that no one fails to obtain the grace of God; that no "root of bitterness" springs up and causes trouble, and by it many become defiled; 16 that no one is sexually immoral or unholy like Esau, who sold his birthright for a single meal. 17 For you know that afterward, when he desired to inherit the blessing, he was rejected, for he found no chance to repent, though he sought it with tears.
——————
5 Core Values of SWAT
1. God's Word
2. Prayer
3. Evangelism
4. Discipleship
5. Community
——————
SWAT – Spiritual Warriors Advancing Truth
Call us Toll-Free at: +1-844-777-7928
Email Us a Question: ask@swatradio.com
FIND A SWAT MEETING
Woody's Bar-B-Que
226 Solano Rd
Ponte Vedra, FL 10611
Wed. 6:30-7:30 am
IHOP
3250 Hodges Blvd
Jacksonville, FL 32224
Wed. Night 7-8 pm
Salem Centre
7235 Bonneval Rd
Jacksonville, FL
Wed. 12:00-1:00 pm
Jumping Jax House of Food
10131 San Jose Blvd #12
Jacksonville, FL
Thursday 6:30-7:30 am
The Village Inn
900 Ponce De Leon Blvd
St. Augustine, FL
Friday 9:00-10:30 am
Woodmen Valley Chapel – Woodmen Heights Campus
8292 Woodman Valley View
Colorado Springs CO 80908
Thursdays 8-9:15 pm